Discussion on Dailyps 8 comments
onlizinenet.pictures 2 years ago
be dead to self – https://www.youtube.com/watch?v=UW8S683Z9ag – to not is suicide.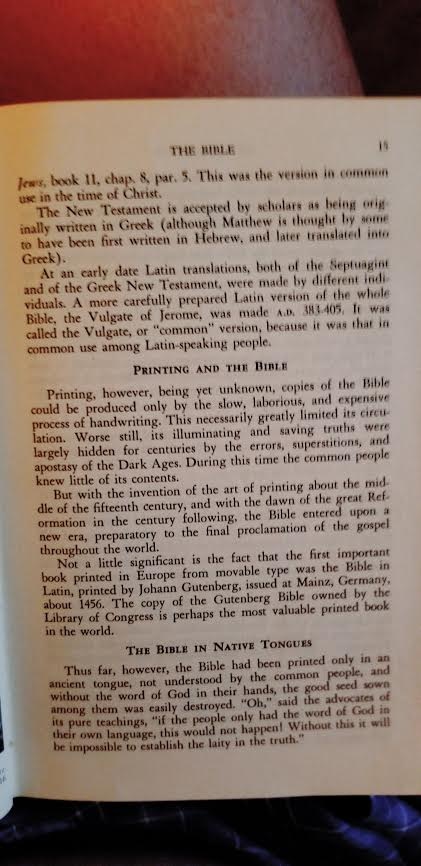 is to be alive in Him.
–
the above was printed
Harold Publishing Association
Washington D,C.
1958
As of 2009, 49 Gutenberg Bibles
are known to exist, but of these
only 21 complete. Others have
pages, even whole volumes missing.
In addition, there's a substantial number
of fragments, some, small as individual leaves,
which are likely to represent about another 16 copies.
– Gutenberg Bible – Wiki


Evil was conquered by Me, and
to all who rely on Me there is
immunity from it. Turn evil
aside with darts I provide.

Rejoicing
tribulation,
is but
only
one
dart.

Practicing My Presence,
another.
Self-emptying,
another.
Claim My Power over temptation,
another

Find many of these darts as you tread My Way;
you will learn to use adroitly, swiftly. All adapted
to the need of the moment.
And Moses said … Fear ye not,
stand still, and see the salvation
of the Lord, which he will shew to
you today.
Exodus 14:13
Learn daily the sublime lesson of trust;
calm in the midst of storm. Whatever sorrows
or difficulty the day may bring My tender command
to you is still the same — Love and Laugh. Love and Laughter,
not a sorrowful resignation, the mark real acceptances of My Will.
Leave every soul the braver and happier for having met you. For
children or youth, or old age, for sorrow, for sin, for all of you
encounter in others, this should be your attitude. dO Love
and Laugh.
Do not fear.
Remember how I faced the devil in the wilderness, and how I conquered with
"the Sword of the Spirit which is the word of God." You too have your quick
answer to every fear that evil may present an answer of faith, confidence
in me. Where possible say it aloud. A spoken word has power. Look;
every fear, not as weakness on your part due to illness or worry,
as that very real temptation to be attacked and overthrown.

………………………………………………………………………..

Now unto Him who is able to keep you from stumbling, and to make you stand
in the presence of His glory blameless with great joy, to the only God our
Savior, through Jesus Christ our Lord, be glory, majesty, dominion
and authority, before all time and now and forever. Amen.
Jude 1:24-25